The Baby Jogger City Select is by far the most versatile pram/stroller on the market.  It offers a balance of comfort for both the child and the parents.  It is the ideal prams for the first child with the ability to easily expand to cater for 2 child's.
As a single seat prams, it is a fully size pram.  Kind of large for most people.  However, large has it's benefits, it does offer more comfort for the child and the large rear wheels does make it easy to push.  However, folding is done in 2 steps.  The seat can easily be take recline, reversed or take off for folding.  To fold the frame, you simply lift the side.  I wish all the prams were design this way!  The company will say you can fold it with the seat on, but I really can't see the benefit in carry the extra weight.  The combined weight of the frame and seat is 12.5kg.  Heavy compared to smaller strollers, but this is a a good solid pram with a huge shopping basket and the extra weight is most likely designed for the purpose of carry the second seat.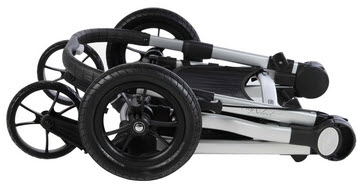 There are 16 seating combinations for the Baby Jogger City Select.  You won't use all configurations, however, it would be ideal for twins or childerns with different ages.  You can have a capsule, bassinet or any seating configuration as you need.  Each seat has a capacity of 20kg.  That is a pretty huge baby!  The seat has multiple recline positions suitable for newborns to 20kg which is above 4 years or older.
A notable feature of the 2014 model in Australia is the SPF 50+ canopy.  It won't cover their legs, but at least the head and face is well protected from the Australian sun.
The Baby Jogger City Select retails at $949 for a single seat and $1220 for 2 seats.  The ideal pram for the growing family and offering a peace of mind purchasing with the life time warranty on the frame.